Great Motorcycle Roads – Colorado Springs, Woodland Park, Manitou Springs, Pueblo, Canon City, Cripple Creek, Rocky Ford

Heading for Colorado's mountains via US 50, a nice ride in itself, brings you to Pueblo. An easy ride up to Canon City sets you up for some good riding. US 50 continues from Canon City up to Salida along the Arkansas River, through the Arkansas River Canyon. While you're spending time or just passing through Canon City, you absolutely will want to take a ride over Skyline Drive.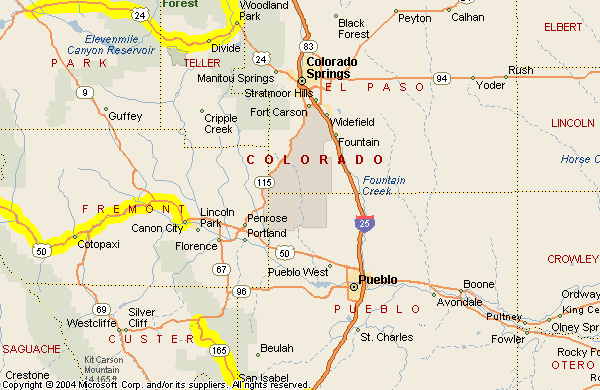 Another route into the Rockies is up US 24 through Woodland Park and on over Wilkerson Pass into South Park.
Or, if you're interested in something truly unique, take Colorado 67 south to Colorado 165, and then south on 165 to Bishop Castle. Bishop Castle may look like a castle – that is to say, a building – but it's really a 160-foot-tall work of art – officially. It doesn't conform to any building codes but Jim Bishop won the legal battle that ruled his creation art, and therefore not subject to building codes. It's much too hard to describe it; you've got to see it for yourself.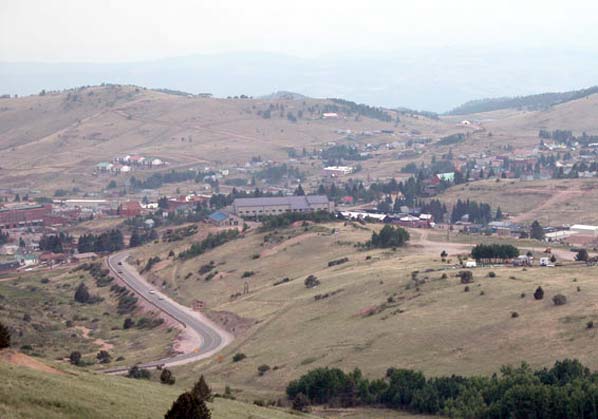 Cripple Creek is an old mining town that still looks much the same as it did, although many of the old buildings on the main street are just shells that now house casinos. Still, along with its neighbor Victor, this is a trip worth taking. There's still a lot of history there. Here's a shot of the town from the main road coming in. Also be aware that the back road out of town, County Road 1, is a very nice motorcycle road. It meets up with county roads 12 (to Guffey) and 11, which brings you out on CO 9 just a little north of U.S. 50, a bit west of Canon City.
In Colorado Springs you will definitely want to stop at the Garden of the Gods. This always free attraction features red rock slabs tipped on their side, soaring to the sky. Be sure to drop a contribution in the box to help pay for upkeep.
Another point of interest in this part of the state is the Royal Gorge Bridge and Park. This is west out of Canon City along U.S. 50. The entrance fee is pretty high, $23 per person, but unlike when I visited as a kid, that includes almost everything. Plus, we asked for and got a motorcycle discount. The road that crosses the bridge loops on back to U.S. 50 on a terrific, little-traveled road and the best thing to do is take the whole loop. Most people just come in from the highway and go back out the way they came in. We'll just keep the back road our secret.
Here are some shots, one of some of our group crossing the bridge, the bridge itself, and looking down on a train coming up the canyon far below. You can take a cable car down to the bottom and the ride is covered in your admission fee:
Click thumbnail for larger image; arrow through photos; click large image to close.