Colorado Routes and Motorcycle Riding Stories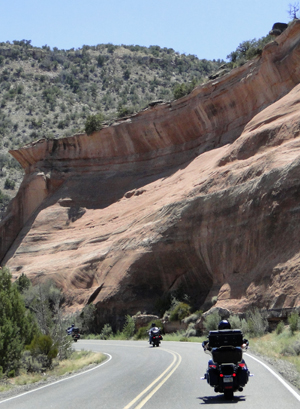 We all have them: riding stories. There was that fabulous ride . . . or that time when we had that learning experience that lead to getting good riding gear . . . or . . . what? Write to and give us your riding stories and we'll post them here. Include photos, too, if you have them.
17 Passes in 32 Hours
My trip started in the western North Carolina mountains on Friday, July 3. My dog and I made Oklahoma City that night thru some nice hot weather. Saturday, the 4th, we kept on to New Mexico and up thru Taos to Antonito, Colorado area. I was not sure just exactly where some of the campgrounds were located on your website, so I took the safe route and checked AAA where I found the camp ground at Mogote. The people were nice and had a free cook out that evening. The facilities were nice with a shower and nice shaded camping area for $18.
The next morning I rode past the camp grounds that you mentioned and they looked very nice. My goal was to ride to the pass and find a sign and get a picture, so my first pass that morning was La Manga. » Continue the story
If You Don't Ride in the Rain, You Don't Ride
Cold and rainy today, with patches of fog. What a great day to ride! Seriously.
Of course Bill had no idea what the weather would be a week ago when he proposed that we do one of our occasional rides up to Blackhawk for breakfast. It has been warm and sunny lately, so we assumed it would be a nice day. I rolled the bike out and looked at the sky and wondered if I should call to see if anyone would show up. But I figured surely someone would be there so we would join them.
Judy asked me what she needed to wear and I told her I was just putting on a flannel shirt over my t-shirt under my leather jacket, so she dressed similarly. We took off and hadn't gone very far when I started to doubt my judgment. It was darn chilly! Oh well, it was morning and surely it would warm up as the day progressed. » Continue the story
My Day Riding Motorcycle Lead for the Bicycle Races
In all the years I've had it I have never appreciated my electric vest more than I did Saturday, when I spent two hours in the lead of a bicycle race. I signed on to be a Motorcycle Lead for some bicycle races out at the little town of Deer Trail, about 50 miles east of Denver. As it turned out, it almost didn't happen.
Saturday morning was chilly but sunny and I was prepared because the forecast was for possible rain or snow. I put on long underwear, my heavy boots, my electric vest, and plenty of layers. The cruise out to Deer Trail was extremely pleasant, and I felt like I would have loved to just keep on going, not stopping until I was somewhere in Kansas or Nebraska. I appreciated the Concours's full fairing, too, because I knew my comfort had a lot to do with the protection it offered. » Continue the story
New Zealand Rides the Rockies
Steve and a bunch of his riding buddies were planning to come to Colorado and Utah in June of 2009 to do a 10-day ride. They gave me their itinerary and I mapped it out, discussed the places they were going, and offered some alternatives. The financial crisis of 2008 killed that plan but all of this routing was on the Passes and Canyons Blog. You can click here to read these posts.
Good Riding Around Durango
I live seven miles west of Durango. First I want to thank you for your (August) mention of the Sugar Pine Ranch Rally in Mancos coming up Labor Day weekend. I am a volunteer helping to get the site ready. We have put in hundreds of hours and tens of thousands of dollars to build a 1/2 mile of road and clear all the deadwood on this two hundred acre working cattle ranch. It is all worth the effort.
Here would be my best day ride heading west out of Durango at about 9 a.m. First stop would be the Absolute Bakery and Cafe in Mancos. This is the perfect place to start the day. Fresh baked everything. Great breakfasts with fluffy omelets and fresh baked goodies and fruit and etc. Excellent coffee. Grab a couple bottles of water at the Zuma natural foods store next to the Conoco station and head toward Dolores on 184 (site of the Sugar Pine Ranch is 3 miles north on 184 toward Dolores). When you get to 145 if you have never been to the Anasazi Heritage museum it would be just a short jog to the right and just around the corner on the highway toward Dove Creek, not more than two miles from the intersection of 184 and 145.
My next stop after the beautiful ride along the Dolores River on 145 would be at the Enterprise Bar and Grill where the owners Mark and Stephany welcome motocyclists with great food and your favorite beverages. The patio deck at the back of this historic bar and restaurant is a great place to sit with a group of friends to enjoy lunch. When a group of 40 of us were headed that way I called ahead a few days before and Stephany was ready for us when we arrived. Everyone in our group enjoyed the food and hospitality.
Of course Telluride is good place to visit if for no other reason than the senic beauty, and there are many good restaruants in town as well as places to stay over if your ride gets you there late in the day. (Better have reservations to find a place to stay in either Telluride or Ouray during the tourist season, May 30 through Labor Day weekend.)
You might want to stop in at a unique motorcycle shop called To Hell You Ride, in Sawpit, a little community just north of the Telluride turnoff.
The rest of the trip around the Million Dollar Highway is about spectacular scenery. If you continue through Ouray and on to Silverton take it easy (don't have much alcohol if any before this part of the ride.) Do stop in Silverton and ride toward the east end of town to the Handlebar Saloon and Cafe. (Even if you plan not to have dinner until you get to Durango I would recommend the peach cobbler with ice cream and a good cup of coffee at the Handlebar. Also say hello to Michael Little Elk in the Storyteller Indian Store shop in front of the Handlebar. Michael makes beautiful silver and gold and tourquoise jewelry. His Harley Davidson has some beautiful silver and copper and semi-precious stone jewelry designed for a motorcycle.)
Take it easy on the road to Durango. Too many bikers have tried to run that stretch too fast and some didn't live to tell about it. Slow down and enjoy the beauty. Once back in Durango I recommend some locally owned places to eat: Serious Texas Bar-B-Q (there are two locations and the owner, who is named Cookie, rides as well as cooks great barbeque.)
J'Bo's Pizza and Ribs on Florida Road is owned by Bo, another motorcycle rider. This is one of our favorite places to eat.
Of course there is the almost famous Scoot 'n' Blues. The food is good there and though a bit commercial the old motocycles add to the atmosphere.
My wife and I like Poppy's for sandwiches. It is near the train station.
For coffee lovers, Durango Joe's on College and about 7th is a good bet.
For beer lovers the Steamworks Brewery and Restaurant is a great place to eat as well as drink micro brews.
There are many more good restaurants to suit anybody's taste, from Thai to Mexican to upscale steak and seafood. Dress is always casual no matter where you go in Durango.
Good places to stay in Durango include the Quality Inn and the Super 8 on South El Camino Del Rio, near both the Harley and the Honda dealerships.
More expensive and maybe worth the $ would be the Strater Hotel or the other fancy historic place I can't recall the name of, maybe the Palace or is that the good restaurant attached?? (The historic hotels in Durango would also require reservations as might most motels.)
That is about all I have experienced first hand. I ride a VTX1800R and my wife a Goldwingtrike. We love riding in these mountains.

Motojournalist Bags 10 (No, 11!) Passes Over 10,000 Feet in Two Days
I was reading the March 2007 issue of American Motorcyclist, the magazine of the American Motorcyclist Assocation, and they had an article by Grant Parsons telling of how he set out to reach 10 Colorado passes higher than 10,000 feet in only two days. I can't give you a link to the story because it's in the members-only portion of their website but here's the gist of it, with a map.
Starting from Longmont, he went up over Trail Ridge Road, nabbing Milner Pass and the seemingly unnamed pass for the road – my map suggests this is Iceberg Pass. Then he headed back to Longmont.
The next morning Parsons went up through Nederland, through Central City, to Idaho Springs and on to the top of Mount Evans. Backtracking again, he got on I-70 and then off on US 40 to go up Berthoud Pass, then backtracked again. Next he went almost to the Eisenhower Tunnel on I-70 and got off on US 6 over Loveland Pass. From there he headed to Breckenridge and over Hoosier Pass down to Fairplay. A left turn took him to Kenosha Pass, and a backtrack took him to Fairplay and on to Buena Vista. From Buena Vista he went up Cottonwood Pass and turned back again. (Cottonwood Pass is only paved on the Buena Vista side anyway.) North out of Buena Vista he got to Twin Lakes and went up Independence Pass, which goes over to Aspen. Another backtrack and he spent the night in Leadville.
The following morning he took the west fork from Leadville to the top of Tennessee Pass, doubled back and took the east fork that goes up Fremont Pass.
Voila! Eleven passes in less than 48 hours. Fun to do if you're one of those goal-oriented sorts. I'd suggest you take more time and a more leisurely pace.
Good Day Ride from Colorado Springs
I noticed there was one about a ride out of Colorado Springs through Woodland Park. I took one that way at the end of July. We went out US 24 to Hartsel, then south on CO 9 down to US 50 to Canon City, then headed back east to CO 115 and on up to I-25. It was a nice loop and some really neat picture stops along the way.
A Loop from La Junta for the Cool-Weather Months
I wanted to add a ride to your list of rides. I have ridden this route numerous times and really enjoy it. There are no services along this route so make sure to fuel before leaving La Junta (and/or Raton).
Leaving La Junta take CO 109 south through Higbee (canyons) and over mesas to Kim, CO (very scenic). Just before reaching Kim 109 will intersect with US 160 and continue south through Kim, which will then turn west toward Trinidad. Approximately half way from Kim to Trinidad CO 389 (left) heads south to Branson, through the Tollgate Canyon (very scenic), then turns into NM 551, when you cross the Colorado-New Mexico border. NM 551 ends when it intersects with NM 456 and you will head west (right) to Folsom, where you pick up NM 325 (very scenic) to Capulin Volcano National Monument. You can ride up and look off the rim into the pit of the volcano (there will be a small fee to ride up to the volcano). Continue south on 325 to US 64 & 87, turn right and ride into Raton, NM.

Ride north out of Raton up Interstate 25 back into Colorado. US 160 east out of Trinidad turns into US 350 and returns to La Junta via the old Santa Fe Trail (not a lot to see along this route). Either direction on this route will be very enjoyable.

There are old ranching communities along this route, with very little traffic. This is a good ride for a starting ride in the spring, as the weather along this route in July and August will be extremely hot. This ride will put you across some very scenic plains of Colorado, deer and antelope are common to see along this route, along with golden eagles. Packing snacks and drinks is recommended, as this will take six to eight hours to ride without any services from La Junta to Raton. If you are lucky, Kim may have the gas station/convenience store open. I would not count on this as they are usually only open weekdays, very seldom on weekends.
Part of an Eight Day Trip from Atlanta to CO
The ride north towards Colorado is through some amazing scenery. The southern tip of the Rockies slowly rear skywards as I speed along Highway 159 from the New Mexico state line. In Fort Garland I feel as if I could reach out and touch Blanca Peak. I turn westward once more passing through South Fork. The road follows the Rio Grande River valley through some of the most spectacular scenery I have ever seen.
Great Trip on Our Duck
We took a great trip on our Duck last June from outside of Clifton, down 141 to Gateway, Naturita, Placerville, Telluride, Ouray and Durango. The ride down 141 was incredible. No traffic (only lots of motorcycles), great road, beautiful scenery with some historical sites. Just incredible. Might want to look into it.
A Good Ride Out of Colorado Springs
Howdy. A good run out of Colorado Springs is Take Hwy. 24 thru Woodland Park to Divide, take CO Hwy. 67, heading toward Cripple Creek, you come upon a long turn to the right, instead take the route to the left, Teller Country Rd. 81, which runs the back way thru Aspens and nice views of the Gold Country on its way in to Victor. Out of Victor pick up CO Hwy. 67 and head into Cripple Creek, as you come into Cripple the first major intersection is Bennet Ave., turn left to the top of the hill, turn right and at the stop sign (Cripple Creek Post Office), turn left on Teller County Rd. 1.
Take Teller Co. Rd. 1 to the intersection just past the Evergreen Station and turn left on Teller County Rd. 11. Follow TCR 11 all the way to the "Y" intersection, veer left, and continue to the intersection of TCR 11 and CO Hwy. 9 North. Take Hwy. 9 to Hartsel. Turn right on CO Hwy. 24 east over Wilkerson and Ute Passes and back to Woodland Park and finally into Colorado Springs.
This is almost all two lane, lower mountain roads with nice scenic views and lots of twisty roads, FYI.
Take care, ride safe, but have FUN!
OFMC Has Been All Over the West
Our group, loosely tagged the Old Farts Motorcycle Club, has been taking annual trips ever since 1989. It started out just three of us but in later years we've added brothers, sons, brothers-in-law, and just plain friends. Here's a PDF of our running list of where we've gone.
We All Have Good Riding Gear... Now
My buddies and I have been taking off for a week's ride every summer now for about 15 years. In the beginning you'd have to say we were not really prepared. Sure, we had camping gear and credit cards to pay for motels, and we probably had reasonably warm clothes, but that was about it. Then there was the day we learned the value of good riding gear.
We were coming back into Colorado from New Mexico on US 285 and a little south of Alamosa we ran into a cloudburst. No big deal, we thought. We all know Colorado weather and we knew this bit of moisture would quickly pass over, so we kept riding, even though we were getting a bit wet.
Sure enough, it passed and we rode on into Alamosa. As we pulled up at the first traffic light we agreed that finding a coffee shop and getting something warm to drink would be a good idea. We hurried into the first place we found and ordered coffee and then proceeded to drink perhaps 10 pots of coffee between us, shivering and shaking uncontrollably for about an hour. And it dawned on us that this was hypothermia. It didn't matter that it was July. We had gotten wet, we had kept riding, and that moisture evaporated, taking much of our body heat with it. Nowadays, we've got good rain suits and we're not afraid to use them.