Good for You to Know...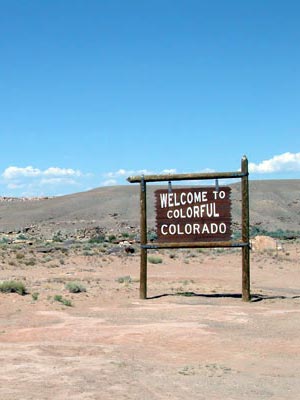 If you're coming to ride Colorado's passes and canyons in the summer you may think you won't need warm clothing. You would be wrong. With some passes higher than 12,000 feet, it is not unusual to run into temperatures in the 40s even in August. Snow is not out of the question. Be sure to bring all your winter gear: gloves, electric vest, leather chaps, whatever.
You will also need to recognize that a sunny morning doesn't eliminate the possibility of rain later. Weather here is very spotty, very local. It can literally be raining on this side of the street and not on the other side. Afternoon rain showers can come on very quickly and if you left your rain gear at the motel or campsite you'll regret it.
Colorado is not a helmet state. It's up to you to decide whether you want to wear yours or not, but as we all know, riding in rain without one is not fun.
Altitude Sickness
One thing anyone coming from lower elevations should be aware of is the possibility for altitude sickness. Some reports say as many as 25 percent of visitors to Colorado suffer some degree of altitude sickness. Symptoms include fatigue, dizziness, nausea, vomiting, headache, and trouble sleeping. Symptoms rarely last longer than three days.
If you feel these flu-like symptoms you should do the following. If symptoms persist, move to an altitude lower than 6,000 feet.
» Drink a lot of non-alcoholic fluids
» Avoid alcoholic beverages and sleeping pills or narcotics
» Eat foods that are high in carbohydrates while avoiding those high in fats
» Avoid heavy exercise
» Try taking 125mg of Diamox (acetazolamide) twice daily
Seasonal Road Closures
Another thing to be aware of if you're coming to ride in Colorado is that not all of our roads are open all year round. In fact, the more spectacular the road, the more likely it is to be closed at some time, often until late in the spring or even early summer. If you are coming in late spring or early fall you would do well to check the conditions in advance.
The following roads are those the Colorado Department of Transportation lists as closing for the winter. When they reopen depends on the snowpack, but it's unlikely that they will open before the end of May in any year.
» US 34 over Trail Ridge Road
» CO 82 over Independence Pass down to Aspen
» CO 5 to the top of Mount Evans
» COS 1 to the top of Pike's Peak (partially gravel)
» GCR 12 over Kebler Pass (gravel) from Crested Butte over to Paonia
» FR 209, 306 over Cottonwood Pass from Buena Vista over to Gunnison (gravel on the west side, paved on the east)
Of course, any pass is subject to closure during bad weather and most are closed several times over the course of a winter. Frankly, there are not a lot of people riding motorcycles in the mountains in Colorado in the winter so clearly you're going to want to come in the summer time.
Motorcycle Colorado Faves
Too much is never enough, so if you're looking for more good motorcycle stuff on the web, here is a list of some of our favorite sites.
Training=Safety
One other item I hope will be helpful is this list of rider training organizations around the state. Motorcycle fatalities have been increasing in recent years but statistics show that riders who have been trained are far less likely to end up in fatal accidents.