Mount Evans and Squaw Pass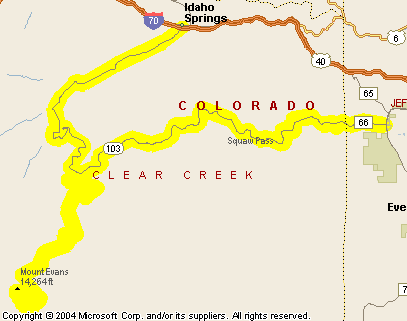 Colorado 103 over Squaw Pass is a very nice motorcycle ride on its own, but this road is also the gateway to 14,264-foot Mount Evans. Colorado 5, which goes up to just below the summit, is renowned as the highest paved road in the world.
Going that high, the road is only open in the summer months, after they clear the snow away around Memorial Day. No matter when you go you absolutely MUST bring warm clothing. We were up there last year on July 15 and we got snowed on. Get the picture?
A good route for this trip, and the order in which the photos are presented, is to take the turn-off onto Colorado 103 just south of Bergen Park (labeled County Road 66 on this map, for whatever reason), run up to the summit from Echo Lake, then back down to Echo Lake, and on down to Idaho Springs.
There is a $3 fee for motorcycles to go up the road. For cars it is $10. That's unless all you're going to do is go up and come back down without stopping. Then it's free. Right – you're going to go all the way up and come right back down without stopping. We talked to some bikers up on top who went free. "But we had to stop to put on warmer clothes," we were told as we talked in the parking lot. The woman selling tickets down below said she doesn't question people's intentions, she just sells tickets.
Here's the first leg, from Bergen Park and arriving at the Echo Lake Lodge:
Click on thumbnail for larger image; arrow through photos; click on large image to close.







Now we turn up the road to the top of Mount Evans. One key thing to remember here is that no one is or should be in a hurry. You can't pass on this road, and with the drop-off on the outside you'll find plenty of nervous drivers hugging the center line to the point of crossing it. Just take it easy and enjoy the ride.






Here we are on top. This stone structure used to be a small shop, if my memory of many years ago is correct. The next two shots look back at the road we just came up, and at Summit Lake, which we passed on the way up. Then we see people who have walked the remaining 40 vertical feet to the top. The fifth shot is looking back toward the parking lot and buildings, and the path to the top:




Of course, motorcyclists always talk with others of their kind. Here's a guy we met up there:

Now we're headed back down. The first shot is looking off toward the horizon, where a bit of July snow is coming our way. Next is from Summit Lake looking back up the hill we just came down. The weather has come and passed. It all took about 10 minutes.
Be advised that as you make the loop past Summit Lake there is what the highway department calls "road damage," and what dirt bikers call "whoops." It is extremely uneven pavement. Further up there are big chunks of asphalt missing where the road is falling away:


There is always ice and snow at this elevation, and some people engage in a temporary form of grafitti:


Getting back close to Colorado 103 you can see Echo Lake below. Then you pass it once you're back on the Squaw Pass road. The road winds through some switchbacks and canyons and finally comes out to Idaho Springs, where you can pick up I-70 if that's what you need: