Great Motorcycle Roads to Ride in Colorado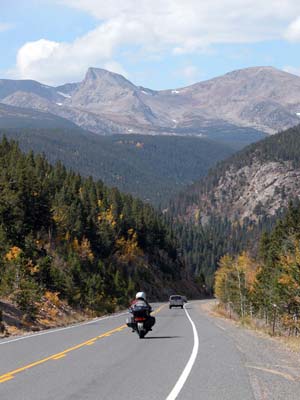 This page is offered as a convenience if you're looking for a particular road. You can go to the home page and click on the map to bring up any section of the state, and then click on any of the highlighted roads to bring up more information. Or, you can select the road from the list below. Route maps and photos are included with each suggested route.
This website has primarily focused on paved roads, but by request I am going to be adding some unpaved roads, too. You'll find what I have so far on the Dirt Roads and Side Trips page.
Also, and this is new, Gord Ripley has done us all the courtesy of plotting all these roads below on GPS, and here is the GPS file for you to download. Or if that file doesn't work (some people have had problems) try this one, in XML format: Colorado2010.xml. Here's an update: That GPS file still didn't seem to work so Brian Hagen fixed it and sent me a new version. If anyone tries using it and has problems, please let me know so we can continue to try to resolve the issue. Latest update: OK, this is getting to be a pain. I just received an email telling me that "There is not a single waypoint on this map other than Harley dealers. It seems like maybe this was a prank on your site from someone supposedly helping?" If anyone else can confirm this for me I guess I'll just remove it and this whole paragraph on this page. Thanks.
Then, just to top all this off with a bit more, let me point you to a web page that the Colorado Department of Transportation has set up featuring the state's 25 designated Scenic and Historic Byways. And the state offers a map of these byways, available through an online form at: http://goo.gl/forms/sFRhu0io3d and a Colorado Motorcycle Skill Rating Map at: https://www.codot.gov/safety/live-to-ride/rider-resources.html.
» US Highway 50 through the Arkansas River Valley — This road runs up from Canon City to Salida, and is where the artist Christo is planning to drape the river in fabric.
» US Highway 40 over Berthoud Pass — US 40 splits off from I-70 west of Idaho Springs and runs over Berthoud Pass on its way to Winter Park.
» US Highway 34 down the Big Thompson Canyon — From Estes Park down to Loveland, US 34 goes down this spectacular canyon.
» County roads over Cottonwood Pass and down through Taylor Canyon — Head west out of Buena Vista and you go over Cottonwood Pass, down past Taylor Reservoir, and on to the road to either Gunnison or Crested Butte. This road is not paved on the west side of the pass.
» Colorado Highway 135 to Crested Butte — Not a great road, but this will connect you to the Kebler Pass road, if you're into riding good gravel.
» Colorado 139 over Douglas Pass — Running between Loma and Rangely, this is a good north/south route on the western side of the state.
» Colorado 165 west from Colorado City — A very scenic road that takes you up to Canon City and past Bishop Castle on the way.
» Colorado Highway 12 over Cuchara Pass — This road from Trinidad to La Veta takes you along the Highway of Legends.
» Colorado Highway 17 over Cumbres and La Manga Passes — A nice run coming up from Chama, NM, to Antonito, CO.
» Deckers area along Colorado Highways 126 and 67 — A good north/south road through the eastern mountains.
» Colorado Highway 91 over Fremont Pass — From Copper Mountain to Leadville.
» Interstate 70 through Glenwood Canyon — Even the interstate is gorgeous when you're going through a canyon like this.
» Colorado 134 over Gore Pass — From Toponas on the west to US 40 just north of Kremmling, this makes a good alternate to US 40 over Rabbit Ears Pass.
» Colorado Highway 65 over Grand Mesa — Spectacular views on either side of this spectacular mesa.
» County roads over Guanella Pass — Guanella Pass Road runs south from I-70 at Georgetown to US 285 at Grant. Being close to Denver, it gets very busy on weekends.
» Colorado Highway 92, Hotchkiss to Blue Mesa Reservoir — Running along the north rim of the Black Canyon of the Gunnison, you'll definitely be stopping to get a better look.
» Colorado Highway 9 over Hoosier Pass — Between Fairplay and Breckenridge, this is a ride worth doing.
» Colorado Highway 82 over Independence Pass — One of the best that Colorado has to offer, coming east out of Aspen and over to a little south of Leadville.
» U.S. 285 over Kenosha Pass to South Park — From Kenosha Pass you get an expansive view of South Park.
» Colorado Highway 145 over Lizard Head Pass — From Telluride on the north down to Cortez on the south, this road makes up the western portion of the San Juan Skyway.
» US Highway 6 over Loveland Pass — Don't go through the tunnel on I-70, go over Loveland Pass. This is why you came to Colorado.
» Colorado Highway 133 over McClure Pass — From Paonia over to Carbondale, on this road you see the back sides of the Maroon Bells.
» US Highway 50 over Monarch Pass — Runs from Poncha Springs over to Gunnison. A terrific ride.
» The Peak-to-Peak Highway and adjoining canyons — A series of north/south roads that will take you from Black Hawk up to Estes Park.
» Colorado Highway 14 up Poudre Canyon and Cameron Pass — A gorgeous canyon. From Fort Collins you come up and over into North Park and to Walden.
» US Highway 40 over Rabbit Ears Pass — Between Kremmling and Steamboat Springs, a good ride. Look for the rabbit ears.
» US Highway 550 over Red Mountain Pass — Another of the very best that Colorado has to offer, this road takes you from Durango to Ouray and forms the eastern portion of the San Juan Skyway.
» Colorado Highway 149 over Slumgullion and Spring Creek Passes — Heading south from Lake City, the road runs down to Creede to the south.
» Colorado 103 and Colorado 5 over Squaw Pass and up Mount Evans — Dress warmly no matter what the weather down below if you plan to ride to the top of Mount Evans.
» US Highway 24 over Tennessee Pass — From Minturn up to Leadville, this road takes you past Camp Hale where the soldiers on skis trained during World War II.
» US Highway 34 over Trail Ridge Road — The highest through road in the U.S., this one is a must. It runs from Grand Lake over to Estes Park.
» Colorado Highway 141 through Unaweep Canyon and the Dolores Canyon — A Colorado jewel that most people miss. Don't be one of them.
» US Highway 24 over Wilkerson Pass — Heading to South Park from Colorado Springs, this road will take you past Pikes Peak.
» US Highway 160 over Wolf Creek Pass — Beginning its climb at South Fork, Wolf Creek Pass offers spectacular views as it descends on the west toward Pagosa Springs.