The Peak-to-Peak Highway and Adjoining Canyons: Clear Creek, Golden Gate, Coal Creek, Boulder, and St. Vrain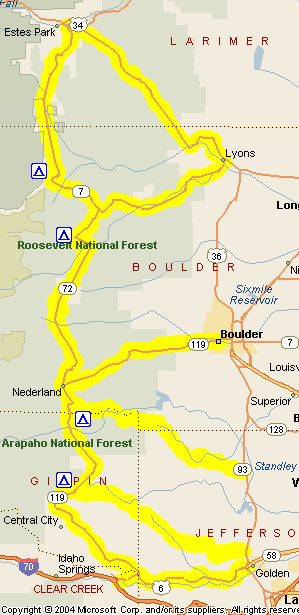 The topography of the Colorado Front Range, the first set of foothills and mountains rising from the prairie, consists of a series of east-west canyons piercing the wall of mountains and allowing access to the high country. Just to the north of I-70, US 6 comes out of Golden and runs up Clear Creek Canyon until it merges with I-70 just east of Idaho Springs. Moving northerly, Golden Gate Canyon, Coal Creek Canyon, Boulder Canyon, and South St. Vrain Canyon all connect to each other and to Clear Creek Canyon via the Peak to Peak Highway. Also coming out of Estes Park and running down to Lyons is North St. Vrain Canyon.
The Peak to Peak – variously Colorado Highways 119, 72, and 7 – begins in Clear Creek Canyon where it takes off from US 6 and passes through Blackhawk, Rollinsville, Nederland, Ward, Raymond, Allenspark, and Meeker Park, and terminates at Estes Park. Curving along through mountain valleys and cut into steep hillsides, the Peak to Peak offers terrific scenery and, if you're heading to Estes Park, is a much better route than going north out of Denver on I-25.
Likewise, US 36 goes north out of Boulder to Lyons and continues to Estes Park, but Colorado 7, also coming out of Lyons, is a nicer road, albeit a bit longer.
Five campgrounds are easily accessible on two wheels along the Peak-to-Peak: Cold Springs, Kelly-Dahl, Peaceful Valley, Camp Dick, and Olive Ridge.
Click on the thumbnails for larger images; arrow through photos; click large image to close.
Views from various points along the Peak-to-Peak Highway:









Views of Clear Creek Canyon:












Views of Golden Gate Canyon:







Views of Coal Creek Canyon:









Views of Boulder Canyon:








Views of South St. Vrain Canyon:





Views of North St. Vrain Canyon: