Dirt Roads and Side Trips in Colorado
For the most part, this website has focused on paved roads that anyone on a street bike would feel comfortable riding. That has left out a lot of good roads that are unpaved but still no problem to ride, and well worth doing so. This page is devoted to those.
Part of the impetus for this page comes from Larry Matkovich, who runs Larry's Custom Cycle in Canon City. Larry has offered to send me information on "dirty" roads, and he has developed a rating system for them. Here's what he says: "I'll be sending info on some dirty roads, as I have extra time. I will give a rating of 0-5 meaning in good weather with dry conditions. Most require state tags but some are open to OHV. I will probably not send any rated 4 or 5, and very few 3."

0 – Good maintained gravel road, rideable on any bike
1 – Fair gravel road, a bit more skill required, but OK for all bikes
2 – Doable but not recommended for sport bikes, full dressers, some cruisers especially 2-up
3 – OK for standard, and some cruisers (some not recommended), OK for adventure tour, dirt, and trail bikes (1-up recommended)
4 – Recommended for adventure tour, dirt, or trail bikes, 1-up only
5 – Dirt or trail bikes only, 1-up only (not for large adventure tour or dual sport)
If you would like to provide information for other roads to add here please do. And if you do send in a road, please rate it as per Larry's system.
Click on the maps and photos below for a larger version. Click again then on the larger images to close them.
Shelf Road, Rating 2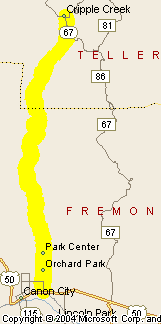 (Fremont#9/BLM/Teller#88), Canon City to Cripple Creek, AKA Garden Park Road (paved lower Fremont county section) Raynolds Avenue/Fields Avenue (in Canon City) – approximately 25 miles.
Take Raynolds Avenue North from US 50 to Pear. Take Pear one block west to Field Avenue. Turn North on Field Avenue (you will stay on this road until Cripple Creek, but the name will change).
You will go about 10 miles on the pavement before reaching gravel. There are a few points of interest on both sides of road (also a Colorado DOW shooting range). Also check out Red Canyon Park.
After reaching the gravel you are on Shelf Road. This is a one-lane road that is cut into the side of a mountain, (originally a stage coach route) about 300 feet above the valley. There is some good scenery and wildlife viewing. (I have seen bear, mountain lion, deer, elk, and big horn sheep.)
Warning: Road maintenance is sparse. In spring the road may flood (one river crossing) and may still be snowpacked in spots until May or June. Mud may be bad. Check locally (Canon City Chamber, 719-275-2331, is located in Wal Mart parking lot, Fremont County Sheriff, 719-275-5555, usually has local road conditions).

Remarks: Jim Kleiber wrote with these comments about the Shelf Road, and sent the photo at left: "My family is a Classic Goldwing group, I myself ride a 78 GL1000 and my twin brother an 81 GL1100. We are two young men of 26 and regularly get questions on why we ride such old bikes as opposed to newer or even sportier bikes. This story is a great example of why we ride this unstoppable machine. Honda makes a great bike that starts EVERY time, and as I recently relocated to Canon City, I have had a great time exploring some great! riding in southern colorado."

"Anyhoo, doing some research on 'Shelf Road' showed full dress bikes not suggested to ride this road. If you aren't worried about a good cake of dust and some bumps....This ride was BEAUTIFUL! It took about 5-10 minutes to adapt our riding to the squirrely rear end of the heavy Goldwing on the loose dirt but am so glad we took the ride. Anyone out there wants to see some true Colorado beauty and actually up for a ride! instead of a garaged diaper wipe down. This road is a must do at least once. Some dirt roads are the forgotten haven for motorcycle rides."
Apishapa Pass, Rating 2


(Huerfano/USFS(San Isabel) #415,#416/Las Animas #48.0,#46.0,#43.7) Cuchara to Aguilar AKA Apishapa River Road, Cordova Pass – approximately 33 miles.
From Cuchara take CO 12 South past the ski area to the top of Cuchara Pass. Turn east on the dirt road (USFS 415, but may also have a Huerfano county number). This road changes number several times but if you stay on the main road at all intersections you should arrive in Aguilar.
This road passes through some scenic mountain areas just south of the Spanish Peaks Wilderness Area (trail head and parking) and just north of the Spanish Peaks Wildlife Refuge. I have seen deer, elk, small game, fowl, and birds of prey. Eagles and hawks are here but rarely seen! Should also be bobcat, lion, and bear in area. Poisonous reptiles include rattlesnakes and gila monsters (endangered species).
Warning: No winter road maintenance. Road may be impassable due to snow as late as May or June. Fire regulations may be in effect. Call for road conditions:
Huerfano County: Chamber 719.738.1065, Sheriff 719.738.1600
Las Animas County: Chamber 719.846.9285, Sheriff 719.738.2211
U.S. Forestry Service (Pike and San Isabel) 719.553.1400; Hearing Impaired 700.859.1400
Land's End Road, Rating 2
Turn off CO 65 at the 31 mile marker on top of Grand Mesa, running down to U.S. 50 near Whitewater - approximately 21 miles.
Utterly spectacular. After turning off CO 65 the Land's End Road runs along the edge of the mesa a ways until it goes over the edge. Then you're looking at switchbacks galore, vistas that do not stop, and an absolutely fabulous ride.
On top of the mesa the road alternates between pavement and good gravel. Once you go over the edge it's all gravel until you get near U.S. 50 at the bottom. Just take your time and enjoy. You'll find more about this road in my blog, here.
Guanella Pass, Rating 0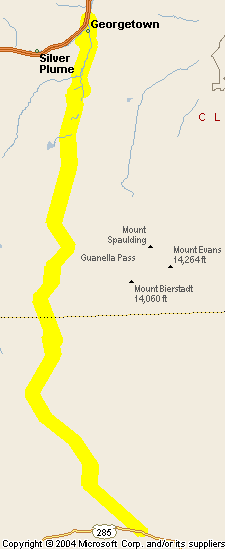 (Clear Creek County Road 381, Park County Road 62), Georgetown to Grant – approximately 23 miles.
Update 8-6-14: The final segment of the road over Guanella Pass is finally getting paved and that means delays. Check the U.S. Forest Service web page here for status. Essentially, you can expect the road to be closed during certain periods Monday through Friday, campgrounds are closed, and it's just generally a good idea to avoid it until the work is completed late in 2015.
The road was closed a few years ago as they redid the portion from Georgetown over the top. It was closed for nearly 3 years while they did major--really major--work on it and now it is a beauty. Once the Grant side is completed I'll have to do a separate page for this road and take it off this Dirt Roads and Side Trips page.
On the Georgetown side it's all paved. Heading down on the Grant side the pavement ends 3.8 miles down and then you're on old pavement--some not very good--until about the 8 mile mark. Then it starts getting bad and at 9.2 miles it ends altogether and you have 3.6 miles of gravel. A final 0.5 mile of pavement brings you to Grant.
Beyond the road surface, this is an especially nice road to ride. It goes up from Georgetown through a valley with beaver ponds and at the top the scenery is spectacular. You can park and hike in several directions. There are campgrounds on both sides of the pass, although the ones on the north side are closer to the road.
Wildlife is abundant here and you may see mountain goats, bighorn sheep, or at the very least, deer.
Because it is not paved all the way, there is not as much traffic as on a paved pass. That, plus its very close proximity to Denver, makes Guanella a particularly nice day ride. Be aware, however, that on the unpaved portions you will either have mud, if it has been wet, or a lot of dust. Do not try to take this road too early in the Spring or too late in the Fall, because you are likely to find snow, possibly mixed with mud. This is more of a summer ride.
We've been up on this pass have and seen a surprising number of bikes. Everything from the dual-sports to Harleys. Haven't seen any Gold Wings, but if some of the Harley guys on their Road Kings are ready to take the road you can do it on just about anything. Just be prepared for what you're going to encounter.
Boreas Pass, Rating 1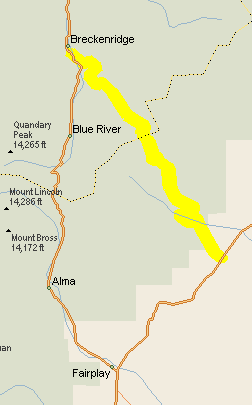 (Boreas Pass Road, Park County Road 33), Breckenridge to Como and U.S. 285 – approximately 18 miles.
Just south of where CO 9 now diverges from Main St. going through Breckenridge there is a turn-off that is not marked for Boreas Pass, but is marked for Rotary Snowplow Park. That is Boreas Pass Road. The road is paved as it sweeps up the hill above Breckenridge but soon gets narrow and turns to gravel. As a gravel road it is decent, with some washboard and some potholes. It's actually slower going for a car than a motorcycle because a bike can weave in and around the potholes. While it's a very easy ride on any bike, there are spots that look like they would be pretty unpleasant in wet conditions.
At the top of the pass there are some railroad buildings that survive from the time when there was a town up there. These are worth a stop.
Heading down the other side, at least in the summer of 2011, the road is in extremely good condition, seeming to have been nicely graded very recently. It's only when you get down very close to Como that it starts getting a little rougher again, presumably due to heavier use down there. And coming down there are some fabulous, sweeping views of South Park. Enjoy.
Kebler Pass, Rating 0


(Gunnison #12) Crested Butte to CO 133 over Kebler Pass – approximately 29 miles.
Gunnison County Road 12 intersects CO 133 coming down off McClure Pass between Carbondale and Hotchkiss. According to Andy Simons, who sent me these photos, it is a "dirt road but suitable for all bikes (well-graded and packed)."
Just to check, I did a web search and found another site where they described this road as "suitable for any vehicles." Elsewhere, any comments I found said it was fabulous. I finally took this road myself in 2009 and can confirm that it is very passable on any street bike. Click on the photos to enlarge them. Don't bother clicking on the map; unlike the others on this page it does not enlarge because there's no need. I've also added additional Kebler Pass on the Crested Butte page.
Cottonwood Pass, Rating 1
The western side of Cottonwood Pass is unpaved, so it belongs in this listing, but I've also given it its own page, because there is no reason not to ride it on a street bike. Rather than repeat everything here, I'll simply direct you to that page.
Ripple Creek Pass, Rating 2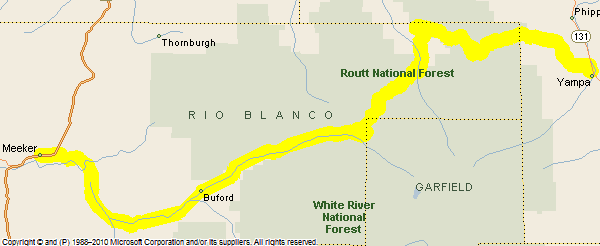 Ripple Creek Pass, between either Yampa or Phippsburg on the east and Meeker on the west, is a gorgeous ride but parts of the road are pretty rough. We did it on regular street bikes but were somewhat regretful that we had. So I'm rating it a 2. But it's such a terrific road if you're on the right bike that I gave it its own page.