Wolf Creek Pass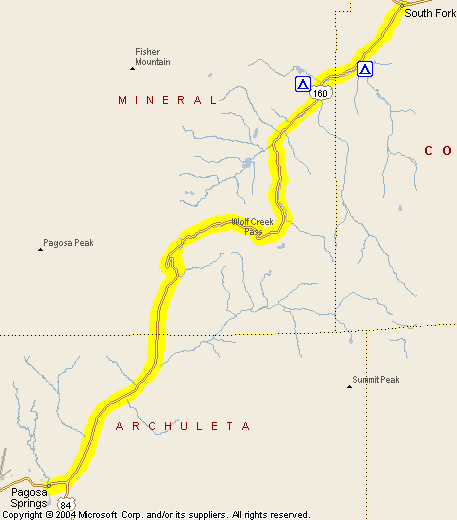 US 160 goes southwest from South Fork to Pagosa Springs, over Wolf Creek Pass. This is a great road for a motorcycle. Oddly, this road is not marked on the official Colorado tourist map as a "scenic byway," although "gorgeous" might be a better term.
There are two motorcycle-accessible campgrounds on the east side of the pass: Highway Springs Campground and Park Creek Campground.
Finally, in July 2008, I've gotten back here to shoot some more pictures and give this pass what it deserves.
Click on the thumbnails below to enlarge the photos.
Heading up the pass from the east, the pass is not actually that spectacular. You can see from the first photo that it's a rather gentle climb. It's once you get over the top and start coming down that it really gets nice. The third shot is looking back where you just came from as you start down on the western side of the pass.