Cumbres and La Manga Passes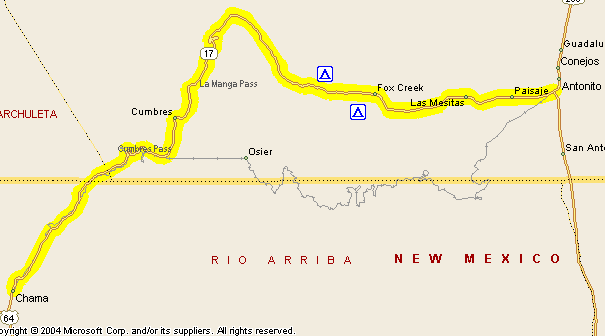 New Mexico/Colorado 17 runs from Chama, NM, over Cumbres Pass and La Manga Pass to reach Antonito, CO. Although you're into flat sagebrush country by the time you reach Antonito, the bulk of this road is very scenic.
Coming out of Chama the road runs alongside the Cumbres and Toltec Scenic Railroad, which is said to the longest and highest narrow-gauge steam railroad in the US. The two roads go their separate ways eventually.
Over on the Antonito side of the passes there are two motorcycle-accessible campgrounds, Aspen Glade Campground and the Mogote Recreation Area and Campground.
When you get to Antonito there is one attraction you will definitely want to find. Ask one of the locals where Cano's Castle is. This guy has a unique vision and is expressing it in an equally unique fashion. Here's a photo that gives you an idea what it's like, though the shot doesn't give the full picture. Click to enlarge the image:

Now here are a couple photos from the passes, coming from Chama toward Antonito: