Douglas Pass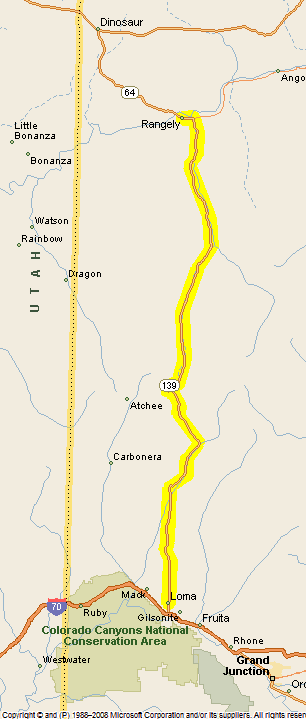 It's not as well known as many of Colorado's higher passes, but Douglas Pass, between Rangely and Loma (along I-70), is a very nice ride on a motorcycle and a good way to get south or north between I-70 and U.S. 40.
The road you'll be on is CO 139 and you'll connect with CO 64 just a couple miles east of Rangely. CO 64 then takes you up to Dinosaur and U.S. 40.
The rise to the top of the pass is gradual and not especially impressive on the north side, but on the south side the road cuts back and forth on a steep climb. If you're headed south you'll reach the pass and stop to enjoy the vista. If you're headed north you'll probably stop several times on your way to the top as the view gets better and better.
Much of the distance between Rangely and Loma and the pass is made up of farming valleys, which are not spectaular but certainly have their own beauty.
One more hint here: If you see the Baxter Pass road coming out of Mack and are inclined to try that, don't. At least not unless you're on a good dirt bike and have some skill riding it. That road is extremely rough. It looks inviting on the map but your Gold Wing or Road King is not going to like it at all.
Here are some photos of Douglas Pass. The series shows the route traveling south to north. Click on each thumbnail to enlarge the image.
These first shots are on the approach to the south side of the pass, some looking back the way we've just come.











Then the rest of the photos show the descent on the north side of the pass.