Colorado 65 across Grand Mesa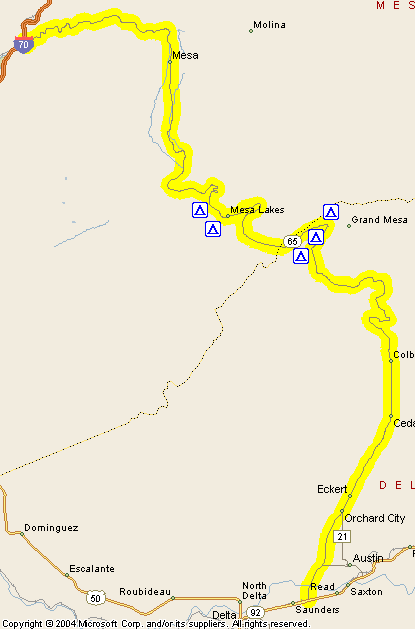 The Grand Mesa rises to the east of Grand Junction, with the Grand Valley to its south. A ride across the mesa can take off from I-70 either at De Beque, via the De Beque Cutoff Road (not shown) or a little further west, where Colorado 65 meets Interstate 70.
Grand Mesa, as the name implies, is huge. It is heavily forested and dotted with lakes. Fishing is big business on the mesa. No surprise then that campgrounds and motels are plentiful.
Coming down the steep southern slope into the Grand Valley affords breathtaking views of the valley laid out before you.
There are five motorcycle-accessible campgrounds along this road: Jumbo, Spruce Grove, Island Lake, Cobbett Lake, and Little Bear.
Here are some photos from Colorado 65 across Grand Mesa. The first one is the canyon you come up from Debeque Canyon on I-70 before you get to the mesa. The next four are climbing the mesa on the north side, and the last one is the descent into the Grand Valley on the south side of the mesa.
Click the thumbnails to enlarge the images; arrow through; click large image to close.