Great Motorcycle Roads – Glenwood Springs, Grand Junction, Carbondale, Rifle, Meeker, Rangely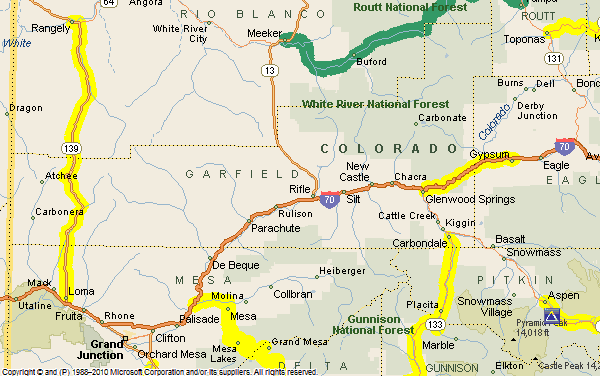 On the western side of Colorado, along I-70, you'll find Grand Junction, and just to the west, at Fruita, the Colorado National Monument. The sheer cliffs and deep gorges of the monument are well worth the side trip. Your best bet is just to ride Rim Rock Drive the length of the park.
Here are some photos of what you'll see on this route. The sequence is from the east end, at Grand Junction, to the west end, at Fruita.
Click thumbnail for larger image; arrow through photos; click large image to close.





Just east of Grand Junction, around Palisade, is Colorado's burgeoning wine country, with wineries and tasting rooms to try their wares. If you come in the early fall, Palisade is also the source of the best peaches you'll find anywhere.
Then, east of Palisade, is the Grand Mesa. This plateau is an outdoorsman's paradise, with fishing, hunting, and camping and, of course, resorts and motels and restaurants. Colorado 65 will take you over the mesa and down into the Grand Valley, and is a terrific ride. Or, if you need to stop for the night and you're a camper, there is a state park along I-70 just east of Palisade, Colorado River State Park, Island Acres. As of summer 2006, the oil and gas drilling activity along the stretch of I-70 between Grand Junction and Glenwood Springs is so intense that you have a very hard time finding a motel room, so book in advance or take a different route.
Further east on I-70 you'll reach Glenwood Springs. Hot springs pools gave this town its name and the locals are happy to have you come for a soak. For a price, of course. The one non-commercial hot spring outside of town has repeatedly been bulldozed to keep away the folks who believe in bathing-suit-optional gatherings. From Glenwood Springs, Colorado 82 takes you to Carbondale and on to Aspen and ultimately up over Independence Pass.
However, from Carbondale you can also take Colorado 133 over McClure Pass down to Paonia, Hotchkiss, and Delta, in the Grand Valley. Along this route you'll pass a turn-off to the town of Marble, named for the marble quarry here. Marble from this site helped build the Washington Monument and plenty of other notable landmarks and edifices. The remains of the industry that once drove the mine are fascinating and you can even hike up and enter the deep underground quarry. Plus, the quarry is still in operation.
In the northern part of this sector, if you're up for some gravel that is sometime rough, but which takes you through some utterly gorgeous country, Ripple Creek Pass is a terrific ride. When you see routes marked in green as this one is, it is an indication that the road is not paved.
West, near the state line, is Douglas Pass, a good north-south road. Not as spectacular as many Colorado passes, Douglas is still darn nice.
Here's what you'll see at the Colorado/Utah border on I-70. The vertical shot at right is looking toward Colorado from about a mile inside Utah:
Click on thumbnail for larger image; arrow through photos; click large image to close.