Rabbit Ears Pass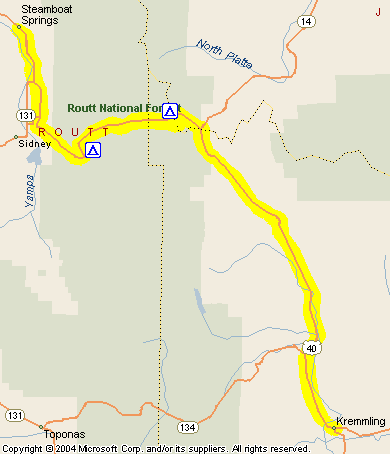 US 40 crosses Rabbit Ears Pass (along with the minor Muddy Pass just to the east) between Steamboat Springs and Kremmling. Up on top you'll see how the pass got its name. Descending into Steamboat is especially spectacular, particularly on a motorcycle, where we get the very best views. If you cross the pass in the dark, take your time. The switchbacks can be treacherous if you're moving too fast.
At Muddy Pass you can get off US 40 onto Colorado 14 and head up into North Park and the town of Walden. From Walden you can go east over Cameron Pass and down the Poudre Canyon to Fort Collins. Alternatively, you could continue north on Colorado 125 into Wyoming or head south on Colorado 125 to Granby.
Two campgrounds are open on top of Rabbit Ears Pass, in the saddle between the east and west summits; a third is closed for now. Dumont Lake Campground is north of the highway at the east summit. Meadows Campground is south of the highway close to the west summit.
Here are some photos of Rabbit Ears Pass, working west from Kremmling to Steamboat Springs. The first is of the rock formation that gave the pass its name. Next is looking back east down the past. The third looks out over the Yampa Valley as US 40 descends toward Steamboat Springs, and the fourth is from the floor of the valley looking at the highway as it heads up the pass.
Click on thumbnail for larger images; arrow through photos; click large image to close.