Great Motorcycle Roads – Steamboat Springs, Walden, Kremmling, Estes Park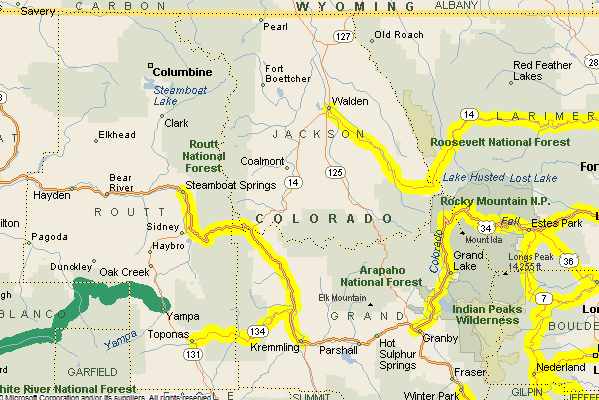 Thirty years ago Steamboat Springs was a dusty western town and little more than a wide spot in the road. That was a long time ago. Skiing precipitated the change and Steamboat now is a major resort, with hotels up by the ski area and shops catering to tourists all up and down the main street. Nevertheless, it's still a small town so don't roll in past 8 pm and expect to find much to eat except for fast food.
There's plenty of good motorcycle riding in the Steamboat area. US 40 east of town goes over Rabbit Ears Pass to Kremmling and Granby. Coming down from Rabbit Ears you'll reach the minor Muddy Gap Pass and will intersect Colorado 14, which takes you into Colorado's North Park and the town of Walden. From Walden you can continue north into Wyoming or head east over Cameron Pass and down the Poudre Canyon to Fort Collins. Also, Colorado 125 will take you down to just west of Granby.
From Granby you can head up over Trail Ridge Road, through Rocky Mountain National Park to Estes Park, or you can continue on US 40 through Winter Park and over Berthoud Pass and meet up with I-70.
An alternative to Rabbit Ears Pass is Gore Pass. Take CO 131 south from Steamboat to Toponas and then take CO 134 over Gore Pass. This brings you out just outside of Kremmling and you don't have anywhere near as much traffic as on US 40. Plus, the ride down CO 131 goes through some marvelous country, making you realize that some lucky Colorado ranchers live in the most beautiful part of the whole state. Gore Pass is not spectacular the way some of the higher passes are, but neither is Rabbit Ears Pass. Take Gore if you've done Rabbit Ears before or just want to see something different.
You may have noticed that this particular map, above, has one route marked in green rather than the customary yellow. This is to indicate that it is an unpaved road. This particular road is Ripple Creek Pass and if you're up for doing some rough stretches it's worth it.

If you want to avoid the congestion of Steamboat altogether, you can take this (click to enlarge the map) route that takes off from US 40 about 150 yards east of the turn-off to the power plant near Hayden. The name of the road is Twenty Mile Road and it meets up with County Road 27, which joins CO 131 at Oak Creek. Twenty Mile Road itself does not show on the map due to limitations with the map-generating software but don't worry, it's there and it is a very nice ride.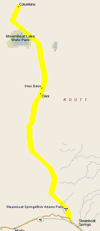 If you have the time and inclination for a side-trip, take Elk River Road (County Road 129) from the west side of Steamboat up to the Hahn's Peak area (click to enlarge the map). Take the turn-off north from US 40 to the airport and you will soon pass through a narrow gorge and emerge on the other side into an open, rolling mountain park that is breathtaking in its beauty. You'll pass Pearl Lake State Park and Steamboat Lake State Park on the way. If you're interested in spending some time in the area there are accommodations in Clark, Hahn's Peak, and Columbine. At Columbine the pavement stops but the gravel road goes on into Wyoming. On the map the road itself does not show, again due to limitations with the map-generating software. To reserve a cabin in Columbine go to this website.
As I do whenever I can, here are photos taken at the state line, where CO 125 (first) and CO 127 (second) cross into Wyoming. CO 125 heads up toward Saratoga: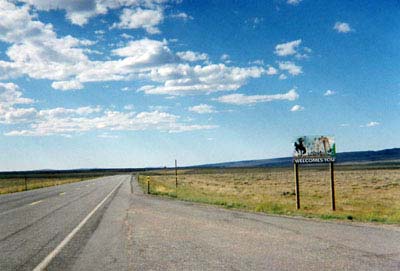 CO 127 will take you to Laramie: