Colorado Motorcycle Training Organizations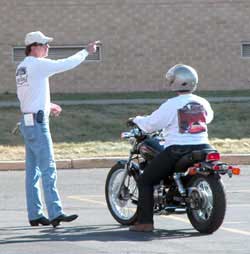 A lot more people have started riding lately, or returned to riding after laying off for many years, and with the increase has come an increase in fatalities. The worst part is that the fatalities are increasing at a higher rate than the increase in ridership.
One factor that has been identified as significant in these statistics is that riders who have received formal training on riding a motorcycle are far less likely to be involved in serious accidents. There are a wide range of motorcycle rider training options in Colorado. Here is contact information for the trainers approved by the state's Motorcycle Operator Safety Training program.
» ABATE of Colorado – 303-789-3264
» BLACK B.A.G., LLC – 303-233-0081
» Bluecreek Motorcycle Training – 303-947-6011
» Full Throttle Riding Academy – 970-503-7381
» G-Force Powersports – 970-503-7381
» Iron Buffalo – 303-751-3741
» Motorcycle Rider Training Center – 303-989-5837
» Motorcycle Training Academy, LLC – 719-380-1448
» Ricky Orlando Motorcycle School – 303-666-6061
» Sleeping Giant Motorsports – 970-819-5991
» TOG Motorcycle Rider Training –970-903-7837
» T3RG – 303-433-9424