Great Motorcycle Roads – Walsenburg, Cuchara, La Veta, La Junta, Fort Garland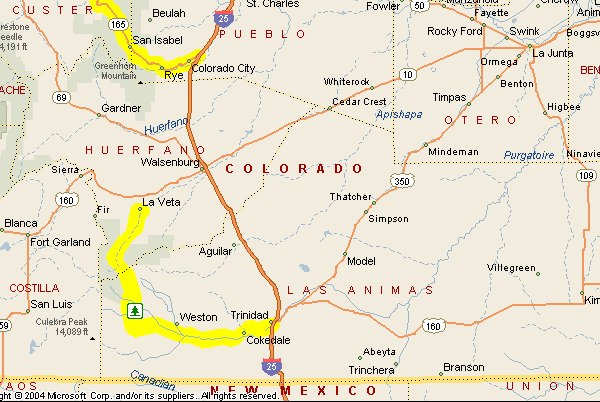 This section of Colorado is largely prairie on the east. If you're coming into Colorado on I-25 over Raton Pass and then planning to head west, Cuchara Pass is your best choice. CO 12 over this pass is windy and has the best scenery you'll see in this part of the state. If nothing else, if you're heading to Denver but you have the time, take CO 12 from Trinidad to La Veta and then reconnect with I-25 at Walsenburg. CO 165 west from Colorado City is also very nice.
Here's what you'll see at the Colorado/New Mexico border on Raton Pass on I-25. The first shot is looking north into Colorado, the second is looking south into New Mexico. The third and fourth are looking to the east:
Click on thumbnail for large image; arrow through photos; click large image to close.