Great Motorcycle Roads – Durango, Pagosa Springs, Silverton, Ouray, Cortez, Telluride, Lake City, Creede

The southwestern corner of Colorado is home to some of the best high pass motorcycle riding in the state. Telluride is just of Colorado Highway 145 south of Lizard Head Pass. Heading north out of Durango on US 550 will take you over Red Mountain Pass to Silverton and Ouray. Whether you're staying in Telluride, Durango, or Ouray, making the complete circle is a favorite ride of many bikers who come here again and again. Plan to stop at Mesa Verde National Park along the way to see some beautiful Anasazi Indian cliff dwellings.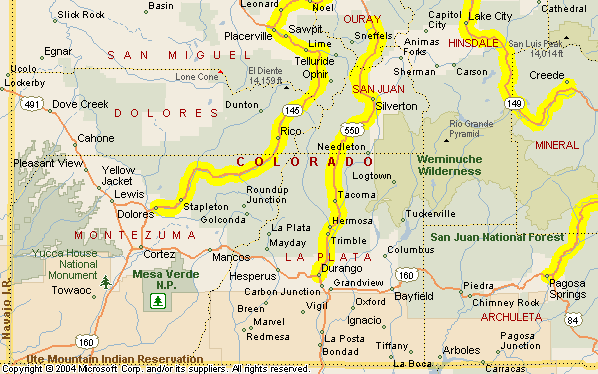 Close by, but not directly accessible due to the mountains, is Lake City, where Colorado Highway 149 takes you over Slumgullion and Spring Creek Passes to Creede. You will also want to go over Wolf Creek Pass between South Fork and Pagosa Springs.
Of course, there is the attraction here of standing in four states at once. The Four Corners Monument is a very popular stopping place for that and absolutely no other reason. Conveniently, US 160 passes within a couple hundred yards of the spot where Colorado, Utah, Arizona, and New Mexico all come together, and the Navajo Nation has turned it into a moneymaker. But, heck, it's fun and the fee is only $3 per person. Here are some photos, the first of me in four states pointing toward Colorado, and then looking off into each state in the order Utah, Arizona, New Mexico, and finally Colorado.
Click on the thumbnails to view larger images; arrow through photos; click on large image to close.





About a mile from the Four Corners Monument US 160 crosses into Colorado from New Mexico. Here are shots from the border, the first looking into Colorado, the second looking toward New Mexico, with Arizona just another half mile down the road:


US 491 crosses into Utah just west of Dove Creek. Here's what it looks like at the state line there:


US 491 also crosses into New Mexico south of Cortez. Here's the state line at that point:


New Mexico 511/Colorado 172 crosses the state line just north of Navajo Lake State Park, south of Ignacio. Here's the state line at that location: