Great Motorcycle Roads – Gunnison, Crested Butte, Salida, Buena Vista

If you're in Gunnison it really doesn't matter which direction you go, every road is a great motorcycle road. Go east and you'll head up over Monarch Pass and on past Salida you'll run down the Arkansas River Canyon. Head south to Lake City and from there you'll go over Slumgullion and Spring Creek Passes. Heading west you'll pass by the Blue Mesa Reservoir and can take Colorado 92 to Hotchkiss and on to the Grand Mesa or stay on US 50 past the Black Canyon of the Gunnison to Montrose. North takes you to Crested Butte but I really don't recommend making that run unless your real objective is to ride Kebler Pass. Or, of course, you can go north and then head east at Almont up Taylor Canyon and over Cottonwood Pass.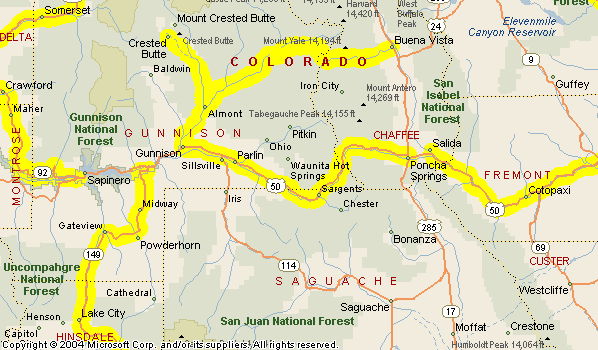 At Almont, on CO 135 between Gunnison and Crested Butte, you'll run into the road coming down from Cottonwood Pass. Cottonwood Pass comes over from Buena Vista, on a series of roads. On the eastern, Buena Vista side, it is paved all the way to the top. That's a nice ride and accessible to anyone. On the western side, going down to Almont through the Taylor River Canyon, the road is gravel from the top of the pass down to Taylor Reservoir. Then it's paved on to Almont. It's up to you to decide whether it's the sort of road you're comfortable riding. The road is closed in winter.
Here's a photo supplied by Andy Simons showing what the road going down Cottonwood Pass looks like: