Great Motorcycle Roads around Grand Junction, Delta, Montrose, Ouray, Lake City

Montrose is in the heart of the Grand Valley, which is surrounded by high passes and great motorcycle roads. Head south and you'll have the option of Lizard Head Pass over to Telluride or Red Mountain Pass over to Silverton and down to Durango. The whole loop is a terrific day ride but you'll probably want to spend more than one day because you'll want to stop in Telluride, Durango, or Ouray overnight.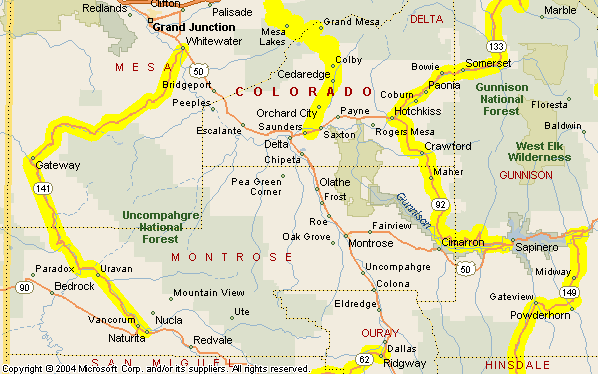 To the north, Colorado 65 will take you over Grand Mesa, which is also worth more than just a ride-through. A little to the east of Colorado 65 is McClure Pass over to Carbondale and the Aspen area. Or, from Hotchkiss, instead of going over McClure Pass, head south on Colorado 92 along the north side of the Black Canyon of the Gunnison to Blue Mesa Reservoir, then back to Montrose on US 50.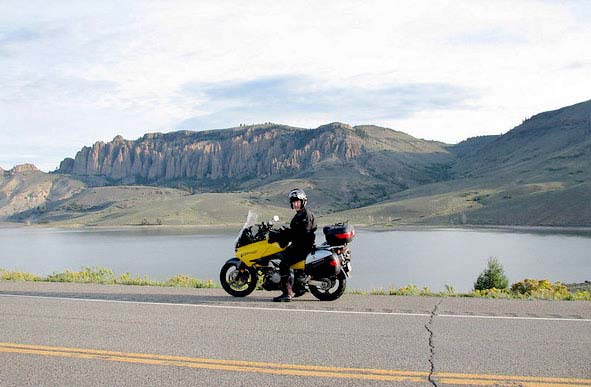 (This photo is one Andy Simons sent me that he shot along US 50 looking out over the reservoir.) Or, if you're not coming back to Montrose, take US 50 east along the reservoir and head south on Colorado 149 to Lake City and over Slumgullion and Spring Creek Passes to Creede.
One side trip that is well worth it is a visit to the Black Canyon of the Gunnison National Park. For the $7 per bike fee you can ride the South Rim Drive with its numerous overlooks into the canyon and you can also go down to the river via the East Portal Road. As the ranger at the gate said to me, "Bikers love that road." It has a 16 percent grade and a lot of switchbacks. And it's spectacular. I was pleased that there was a nice pull-out half-way down so I could stop and let my brakes cool off. Even in low gear it was necessary to brake almost constantly, it was that steep.
Here are two photos of the road down and one at the bottom:
Click thumbnail for larger image; arrow through photos; click large image to close.



A longer but very nice alternate route for anyone traveling between Grand Junction and Telluride, Ouray, and/or Durango is the Unaweep Tabeguache Scenic and Historic Byway. You'll think you've made a wrong turn into Utah with all the red rock canyons and in fact, Utah is just a few miles west from Gateway.
And if you're actually heading for Utah, there is a little-traveled turn off the Tabeguache that you might want to consider. This is CO 90, which you can see heading west from Naturita in that map above. This is a very scenic route that goes through canyons and over the shoulder of the Manti-La Sal range to hit US 191 a little south of Moab. Here are photos from the state line.