Colorado...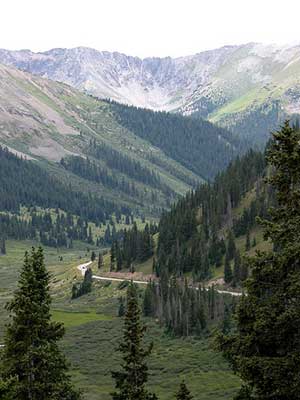 Just saying it conjures images of high mountain passes, deep river canyons, and spectacular motorcycle riding. As well it should. Every tantalizing description of Colorado that you've heard is true. Come see for yourself!
The goal of Passes & Canyons is to guide you to Colorado's best motorcycle roads and help you find what you need when you get there, whether it's motels, campgrounds, bike repair, rallies — you name it. We also offer recommendations of tour companies, motorcycle and scooter rental outlets, and anything else we can offer to be useful to you. Use this site to plan great motorcycle trips in Colorado. Zoom in on the maps to see the details, or follow the links to the part of the state that interests you.
Motorcyle Colorado – Passes & Canyons is participatory. If you know of a terrific stretch of road, a restaurant worth recommending, or anything else that belongs on the site, let us know about it. Those sorts of things generally go into the Passes & Canyons Blog, along with my own writings and ruminations on all things motorcycle and the occasional guest post. We also welcome stories of your rides and motorcycle trips.
We've got a good bit of this site built out now, but there's still more to add. Most recently we've been adding some good unpaved roads on our Dirt Roads and Side Trips in Colorado page. For all the great paved roads there are many more unpaved ones, some rough dirt, others decent gravel. If you feel like really seeing the wilds you'll want to check these out. And if you don't see what you're looking for now, check back later. Or send us an email, , and we'll try to make it a priority. In the meantime, check out some of the best places you'll ever find for your next two-wheeled vacation.
Where Are You Headed?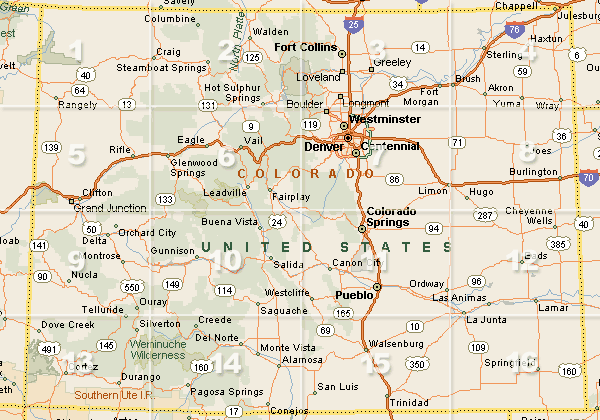 Click on a spot on the map for some of our favorite areas to find a great ride! You may also use the small map grid on each section page to move from section to section:
What's New on Motorcycle Colorado?
» I've added one more nice, motorcycle-friendly motel and also updated some campground information. I need to do a whole lot more of that updating.
» I like to have photos at the state line everywhere I can, and just now added shots from where CO 71 enters Nebraska south of Kimball, Nebraska, and north of Brush, Colorado.
» Added a motel in Estes Park. We stayed there and it was close to downtown, while still being inexpensive.
» Just added a terrific spot for adventure motorcyclists to stay while in northwest Colorado, at Hamilton, CO.
Motorcycle Colorado Faves
Too much is never enough, so if you're looking for more good motorcycle stuff on the web, here is a list of some of our favorite sites.
Training=Safety
One other item I hope will be helpful is this list of rider training organizations around the state. Motorcycle fatalities have been increasing in recent years but statistics show that riders who have been trained are far less likely to end up in fatal accidents.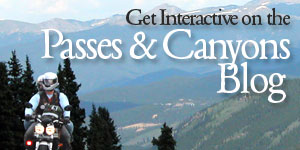 Passes & Canyons Blog Recognized as Top Motorcycle Blog
The Passes & Canyons Blog has been included in a list of top motorcycle blogs. Here's the link.